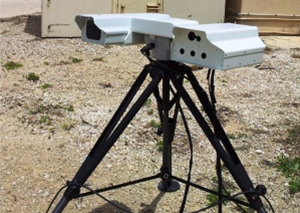 is a short to long range electro-optical missile threat simulator for testing missile approach warning systems (MAWS) and for training crew in the operation of these systems.
CITRON provides fast and safe testing against various types of missiles.
It simulates the MWIR radiation profile of an approaching missile, based on input parameters such as: missile signature, missile speed, missile range, atmospheric conditions and more.
CITRON includes video tracker with motorized pedestal, laser rangefinder, MWIR programmable laser simulator, computer, tripod and a portable battery.
CITRON records data and video backlog of events for post analysis.
The CITRON is available for MWIR, SWIR, LWIR, UV or newer generation dual-band MW MAWS systems. Integrated detectors to measure the IR countermeasure of the threatened platforms, ability to sync between several units to create a true "missile – field" simulations are optional.
Main Features:
Long range testing
Automatic track of airborne platforms
Fast preparation and change of threats signatures
Proven in field use
Two man portable, one operator
Affordable cost. Cost effective
Low Maintenance. Passive cooled
Withstands field environmental conditions
Build in test for in field power and pattern profile verification