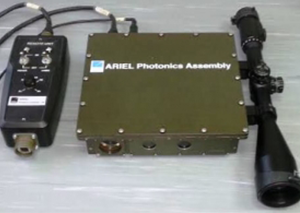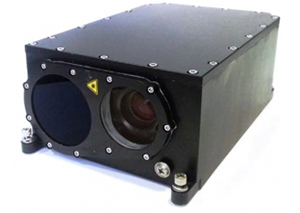 Optical Waveform Generators OWG
based on lasers, VIS, NIR, SWIR and MWIR. The generators include controlled lasers, video cameras and optical sights. They allow illumination of remote objects with very complex optical pulses. An example is illumination of remote electro optical detectors for testing in real outdoor conditions. OWGs include sophisticated capability for programming of output laser pulses shape, repetition rate and output power.
Long range electro-optical sensors and detectors are finding wide use for remote observation, imaging and detection, as well as for free space communication and telemetry. They need to be tested during development, manufacturing, installation and maintenance.
The optical waveform generator is a general use programmable optical generator of patterns of optical infrared pulses of variable pulse shape, pulse width, delays and rate. The generator operates in near infrared band. The generator is used for outdoor testing of functionality of long range optical infrared systems that use cameras, sensors and detectors. Typical applications are pointing and marking, testing of free space communication systems, flame detection systems, spark detectors, fire detectors, laser warning systems, infrared imaging.
The generator is composed of a main unit and an optional remote control unit. The main unit of generator includes a laser driver, a fiber coupled laser and a zoom TV camera. The fiber coupled laser is terminated with transmitting telescope assembly. The telescope assembly is build-in inside the main unit, and it is bore sighted to the mechanical interface of main unit and to the camera. Output divergence of laser beam is adjusted to be ~0.1mrad. Camera video output includes electronic cross presenting laser beam axis / pointing direction. The laser driver includes internal waveform pulse generator for setting the laser pulse parameters. The user can configure the output pulse width, peak power, and repetition rate using an external PC.
The main unit has interface for putting it on a gimbal or a tripod and for attachment of laser safety cover. The main unit has a connector with indication signals of laser operation. The unit is sealed and purged with dry air.
Each generator is supplied in a transportation / storage case with operation manual file, test results, cables, PC software CD-ROM disk. Tripod, external optical sight, external battery, AC/DC convertor and remote control unit are optional.
Main Features:
Long range pointing, marking or testing
Long range zoom 30x bore sighted camera
Fast change of pulse width, repetition rate and delays.
Proven in field use
Compact
Low Maintenance. Passive cooled
Withstands field environmental conditions
Affordable cost. Cost effective