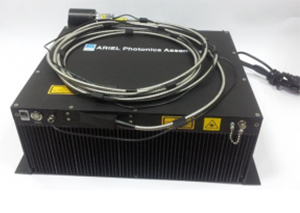 ​Fiber coupled lasers SPARK
The SPARK-500-915 is a high power multimode continuous wave (CW) fiber coupled laser.
Fiber coupled lasers SPARK are fiber coupled semiconductor laser diode devices including fiber optic combiners and adaptors, control and power electronics, build in forced air cooling and armored output fiber optic cable with a terminal (a connector or a collimator). SPARKs operate at 780nm to 1550 nm at average output power of 50 watts to up to 500Watts.
Rated Power > 500W @ 0.22mm fiber
Wavelength: 910 nm
Air Cooled
The SPARK-500-915 laser module is one unit that contains fiber optics components, internal sensors, electrical switch, LED and an electrical connector for connecting a laser driver and control electronics. The module has an optical connector type multimode FC-APC for connection of external light sources and sensors.
The laser is assembled on a heat sink integrated with the laser enclosure.
The heat sink is forced air cooled using build in fans. The laser is terminated with high power armored output fiber optic cable. Output connector of the cable is passively conductive cooled; it includes an end-cap and a thermal interlock sensor.